If you're like me, you HAVE to read the book before you watch the movie. You just have to. Reading the book before watching the film, whether it's on the big screen or small, makes for a richer experience as a viewer. And who doesn't love seeing their favorite characters and worlds come to life right in front of your very eyes? 
While there are a plethora of great films and shows already adapted from our favorite science fiction novels, there are dozens more slated for adaptations by your favorite studios and directors. Before you hit the theaters (or hit the rent button on Amazon), check out this list of must-read sci-fi novels that are being made into film and TV adaptations (bonus: one is already released!).
Dune by Frank Herbert
Dune follows the story of Paul Atreides, who is thrust into the role of leader to regain control of the planet Arrakis, home to the most prized drug in the universe.
Considered one of the greatest sci-fi novels of all time by critics and readers alike, Dune has had many film adaptations over the years, most notably David Lynch's 1984 adaptation. Legendary Entertainment will debut their newest adaptation later this year, directed by Arrival's Dennis Villeneuve. Timothée Chalomet, star of Call Me By Your Name and Little Women, heads the cast as Paul, with other major stars rounding out the cast, such as Zendaya as Chani, Jason Mamoa as Duncan Idaho, and Oscar Isaac as Leto Atreides.
Dune is set for release in October 2021.
Artemis: A Novel by Andy Weir
In 2017, sci-fi author Andy Weir brought us a follow-up to his smash-hit novel The Martian. Set over 60 years into the future, Artemis follows the story of Jasmine "Jazz" Bashara, a smuggler who gets entrapped in a deadly conspiracy in the lunar city of Artemis.
The Martian film, released in 2011 with Matt Damon, received seven Academy Awards, so it's a safe bet this film will live up to its predecessor. 20th Century Fox picked up the film rights to Artemis months before it was released. Phil Lord and Chris Miller, who directed Solo: A Star Wars Story, are set to head the project.
There is no release date as of yet.
The Three-Body Problem by Liu Cixin
The first book in the Remembrance of Earth's Past trilogy is set in a universe where the inhabitants of Earth are preparing for an invasion by the citizens of another nearby planet. This other planet, which is almost identical to Earth, has been destroyed by shifts in its orbit, and its inhabitants wish to invade Earth to make it their new home.
This is one adaptation with a lot of buzz, as Game of Thrones showrunners D.B. Weiss and David Benioff are directing. True Blood's show creator Alexander Woo is also on board, adapting the Chinese-language book for the small screen. Brad Pitt (World War Z) and Rosamund Pike (Gone Girl) are set to produce this much-anticipated series, which will air on Netflix.
The air date is still TBD but is scheduled to start filming this year.
Armada by Ernest Cline
A follow-up to Cline's wildly popular sci-fi hit Ready Player One, Armada follows the story of a high-school student who begins to suspect that his favorite video game is actually a simulator preparing him to defeat an alien invasion. As he is drawn deeper into the game, he discovers more about the history of games and how they are intertwined with his own family history.
Like Artemis, Armada was snapped up by Universal Pictures months before it was published, due to the popularity of the film adaptation of Ready Player One. 
While the film is currently in development in the studio, there is no set release date yet.
Robopocalypse by Daniel H. Wilson
This novel follows the story from the perspective of multiple characters as they witness the fall of humankind via a global AI takeover. 
Ten years ago, Stephen Spielberg had planned to direct the movie, with The Cabin in the Woods director and co-screenwriter Drew Goddard set to write the screenplay. It was put on hold, however, and has since been passed to Michael Bay to direct. 
There has been no word since 2018 when this might hit the big screen, but in the meantime, keep yourself busy reading this thrilling sci-fi adventure in the vein of World War Z.
The Reincarnationist Papers: A Memoir of Past Lives by D. Eric Maikranz
This captivating novel tells the story of Evan Michaels, a man living with schizophrenia, who discovers that the visions and hallucinations that plague him are actually memories from a past life. He soon finds a secret organization filled with people like him, who use their past life memories to drastically change the course of history.
This film, which will be called Infinite upon its release, is directed by Antoine Fuqua of Training Day fame and will star Mark Wahlberg as Evan. The show also stars Chiwetel Ejiofor (12 Years a Slave), Sophie Cookson (Gypsy), and Chris Evans (Captain America). 
The film will premiere on Paramount+ on June 10, 2021.
Station Eleven by Emily St. John Mendel
This gripping best-selling novel follows a group of artists and musicians as they struggle to survive and rebuild in a post-apocalyptic America, whose citizens have been wiped out by a devastating plague of influenza. Sounds a little close to home in 2021, doesn't it??
HBO Max will be airing the series, starring Tank Girl's Lori Petty, David Cross (Arrested Development), Himesh Patel (Yesterday), and Mackenzie Davis (Halt and Catch Fire). The exact date is still TBD, but it is slated for release later this year.
Bios by Robert Charles Wilson
This post-apocalyptic drama depicts the story of Finch, the aging and ailing last man on Earth. As his death draws near, Finch (an inventor) builds an android to protect his beloved dog, Goodyear, when he no longer can. I see tears and tissues in our respective futures, dear reader.
Everyone's favorite on-screen nice guy, Tom Hanks, will be playing the role of Finch in Universal Pictures's adaptation of the novel. The movie also stars Skeet Ulrich of Scream fame and Samira Wiley, who plays Moira on Hulu's The Handmaid's Tale. Robert Zemekis, who has worked with Hanks on previous features such as Forrest Gump, The Polar Express, and Cast Away, is set to executive produce, with Miguel Sapochnik from Game of Thrones directing. 
The film is set to premiere in theaters on August 13, 2021.
Foundation by Isaac Asimov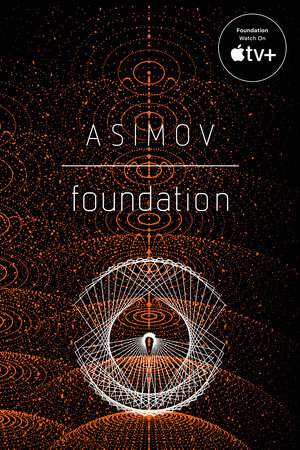 Recipient of the Hugo Award, and considered the best sci-fi series ever, Foundation is a saga that spans thousands of years, detailing human history in our universe. The story describes the history of the Foundation, an institute founded by psychohistorian Hari Seldon to preserve galactic civilization after the fall of the Galactic Empire.
When the deal for the HBO series fell through in 2015, David S. Goyer (The Dark Knight) and Josh Friedman (War of the Worlds) swooped in to save it from its ultimate demise. 
Apple will be debuting the series sometime in 2021, but an exact release date hasn't been announced yet.
The Knife of Never Letting Go by Patrick Ness
Book one in the Chaos Walking series, this novel depicts a dystopian society in which a "noise germ" has killed off all the women and left all the men with the ability to hear each other's thoughts. Teenager Todd Hewitt's world is subsequently blown apart when he encounters (gasp!) a young woman, and together they set out to learn the truth of their new society.
The film, which is entitled Chaos Walking, stars Tom Holland (Spiderman: Homecoming) as Todd and Daisy Ridley (The Last Jedi) as the young woman he encounters. It was released March 5, 2021, in theaters, and can currently be rented on Amazon Video. It has not debuted on any other streaming services like Netflix or Hulu yet.