Cyberpunk, space opera, hardcore, galactic empire, alien invasion … the world of science fiction certainly has no shortage of subgenres. 
If you're a writer or reader of science fiction, you no doubt have your favorite subgenres you gravitate toward. 
Below are some subgenres of sci-fi that are making notable waves in speculative fiction. Some are very new, only designated within the last five years or so.
Slipstream
Slipstream is what happens when you surprise readers with bits of science fiction, fantasy, or any speculative element, into mainstream literary fiction. This subgenre is sometimes described as surreal, illogical, and sometimes just plain weird.   
Annihilation by Jeff Vandermeer
The surreal and dreamlike Annihilation speculates a future where a part of the California coastline has gotten so weird, it's called Area X. Thirty years later, no one knows why the area is called that, why it contains a border no one can cross, or what the weird structures are inside Area X. The action chronicles an expedition in the mysterious area, where previous expeditions have caused cancer, madness, or even death.
Climate Fiction (Cli-Fi)
Officially coined as a term in 2002 by journalist David Bloom, cli-fi, or climate fiction, is any work that deals with climate change and global warming, and how it affects humans and the way we live. Although the term is relatively new in terms of sci-fi, the subgenre is not. 
The Maddaddam Trilogy by Margaret Atwood
Speculative fiction goddess Margaret Atwood imagines a world devastated by plague, global warming, and genetic engineering. Only a handful of humans remain, scraping by and fighting for survival in a future that is both surreal and all too close for comfort for 21st-century humans.
Afrofuturism
This subgenre combines science fiction, fantasy, and history to explore the African-American experience. The term was coined twenty-five years ago by writer Mark Dery, but the idea of Afrofuturism goes back to the days of slavery in America. 
Afrofuturists sought to imagine a world free from the bonds of slavery, oppression, and white supremacy. Artists, musicians, writers, and scholars like Sun Ra and Sojourner Truth have been striving to redefine Blackness in art for decades. The classic masterpiece has also been turned into a gorgeous graphic novel.
Kindred by Octavia E. Butler
This gut-wrenching time bender explores the journey of Dana, an African-American writer in the 1970s who begins slipping between the present and 1800s slavery-era Maryland. Experiencing the horrors of slavery firsthand, Dana learns she has been summoned to save the life of her white slave-owning ancestor. 
Chinese Science Fiction
This subgenre takes a look at speculative futures and technological and scientific advancements in the East Asian cultural sphere (or Sinosphere). Defined in 2014, Chinese sci-fi is now an up-and-coming genre taking Western speculative readers by storm.
The Three-Body Problem by Cixin Liu
This book helped to spark interest in Chinese sci-fi, and it's so popular Game of Thrones showrunners, D.B. Weiss and David Benioff, are making it into a show for Netflix.
Nanotech engineer Wang Miao is tasked with infiltrating a mysterious group of scientists after a rash of suicides. Wang's investigation leads him to an obscure online game that is ruled by three suns. This is the Three-Body Problem and is the key to solving the scientists' deaths and the inherent threat to human survival.
Sci-fi Punk
This section is a group full of sub-sub genres, many of which seamlessly blend together.
Cyberpunk
One of the most popular subgenres of sci-fi literature, cyberpunk usually takes place in lawless urban settings, in which humans are oppressed and downtrodden by technology.
Neuromancer by William Gibson
Considered the seminal work of cyberpunk by readers and critics alike, Neuromancer is a multiple-award-winning classic that should be read by anyone who enjoys science fiction.
Case was one of the best thieves in the matrix—until his nervous system is hijacked and crippled by his enemies. He believes his thieving days are over until his mysterious new employer asks him to go head-to-head against an immensely powerful AI.
Biopunk
This genre focuses on the consequences (good and bad) of bioengineering and biotechnology. 
The Island of Dr. Moreau by H.G. Wells
A shipwrecked man seeks refuge on an island ruled by a mad scientist who performs horrific experiments trying to turn animals into humans. The ghastly results of the experiments lead readers to question the morality and ethics of humans trying to control and dominate the natural world.
Solarpunk
Solarpunk speculates what a sustainable future looks like, in which humans live in harmony with nature with a focus on renewable energy. This is one genre that tends to look on the optimistic side of speculative futures (usually). 
Pacific Edge by Kim Stanley Robinson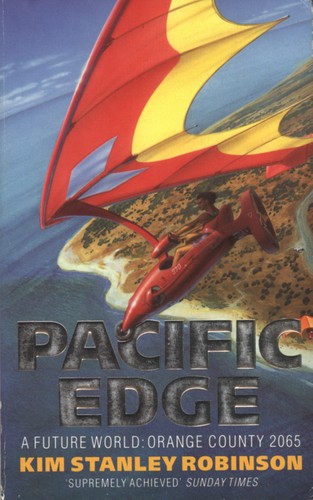 In 2065, the world has finally begun to live in harmony with nature, especially the "ecotopia" of El Modeno, California. A young builder who has grown up in this new green vision of society finds himself struggling to defend his way of life from outside forces of greed, corruption, and exploitation in order to save his community.
Nanopunk
Closely related to cyberpunk and biopunk, nanopunk science fiction is centered around nanotechnology or microscopic machinery.
Altered Carbon by Richard K. Morgan
Now a popular Netflix series, sci-fi mystery Altered Carbon is considered one of the best examples of nanopunk science fiction. 
In the 25th century, humans are scattered across the galaxy, living longer lives than ever thanks to advances in technology. Now humans (if they can afford it) can have their consciousness downloaded to another body, or "sleeve," essentially making death a thing of the past. When ex-U.N. envoy Takeshi Kovacs is downloaded to a new sleeve, he is thrown head-first into a conspiracy that questions the very meaning of existence.
Steampunk
Steampunk is more than a literary genre—it is also a fashion, design, and artistic aesthetic known for its blending of Victorian-age technology (i.e., steam power)  with futuristic concepts like computers or robots.
Mortal Engines by Philip Reeve
If you're not familiar with the genre, this book series, made into a movie by LOTR's Peter Jackson, is a great starting point.
In Reeve's post-apocalyptic world, the land and its citizens have been ravaged by nuclear wars of ages past. Humans must escape disasters like earthquakes and volcanoes following such immense climate and geological change, so they begin to live in moving cities called Traction Cities. The Traction Cities are like characters in and of themselves, hunting, conquering, and "eating" smaller cities and taking all their valuable resources.
Silkpunk
Much like steampunk, silkpunk is a blend of science fiction and fantasy. Where steampunk takes its inspo from Victorian-era brass and glass technology, silkpunk finds its influences in classical East Asian antiquity. Silkpunk blends natural elements such as bamboo, paper, or feathers, for instance, and merges it with futuristic technologies. Think paper battle kites or mechanical undersea boats made of wood that swim like whales.
The Grace of Kings by Ken Liu
Winner of the Hugo and other major awards, Time Magazine has called The Grace of Kings one of the best fantasy books of all time.
Kuni and Mata, who seem like two polar opposites, realize their similar strengths and passions as they battle against silk airships and shapeshifting gods in an uprising against their emperor. Once the emperor is overthrown, however, Kuni and Mata find themselves leaders of two opposing factions, each with its own completely different visions of how the world should be run.