As a writer, crafting your masterpiece is only the first part of your journey to becoming a published author. With the modern boom of self-publishing and ebooks, the dream of becoming a published writer draws ever nearer. That dream becomes even closer to reality with writing platforms that let you publish your book even before you're finished. But with so many choices, how do you decide which digital publishing platform is right for you?
This article focuses on digital publishing platforms that allow you to publish your finished manuscript or works-in-progress, so you can publish as you write while gaining priceless feedback from your readers, many of which pay you royalties. These types of sites are perfect for new and novice writers who have never published before, or for writers who have published before but wish to workshop their novels either during or after the writing is done.
With shorter reader attention spans, the rise of quick bites of "bingeable" content, and free, online digital publishing, more and more authors are choosing to start publishing their books even before they're finished. Why you may ask? Many authors feel posting their works-in-progress can help them revise their work, defeat writer's block, and learn about the ins and outs of publishing--all before their book is even finished. Digital writing platforms also allow writers to create a sense of community in an otherwise solitary occupation.
The following round-up is the best digital self-publishing platform that allows you to publish finished works or chapter-by-chapter--all with reader feedback to help you craft or polish your next masterpiece.
Fictionate.me 
Best for: new writers, serial, and fantasy fiction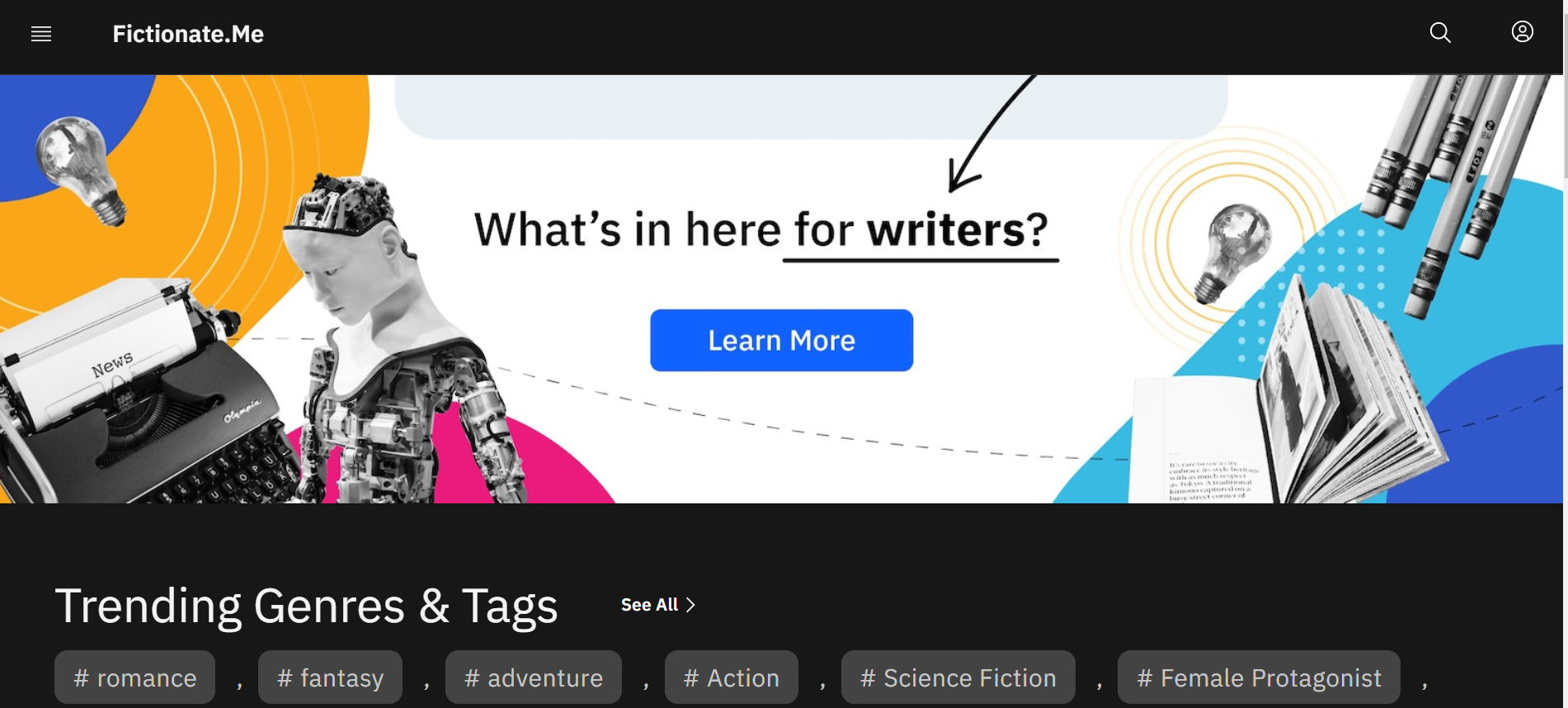 One of the newest platforms to the game, Fictionate.me is perfect for writers who want to "workshop" their WIP. The site is geared toward sci-fi and fantasy with popular sub-genres like action, adventure, thrillers, and romance. Writers choose a payment model for their readers to decide on how they get paid--pay per book, pay per chapter, or monthly subscription, which allows authors to maximize their earnings. Because the site focuses on publishing works-in-progress, serialized fiction, and provides instant feedback to improve your craft, this is a great platform for newbie novelists but is also great for writers who have a finished product who want to get feedback chapter by chapter. Writers can grow their audience by getting into the top charts of their genre. Fictionate has a paywall similar to Medium, where readers pay to read your work--meaning you make royalties, no matter how many followers or subscriptions you have.
Pros
Publish online for free

Retain all rights

Publish work instantly to get feedback while you're working on your book--doesn't need to be finished

Start earning money instantly, even on unfinished works--no benchmarks or goals to meet to start earning

Choose a payment model for your readers

Royalties for all

Get instant feedback from your readers

Keep the same fan base even as you publish new works

High-quality, customizable reading experience on both website and mobile

Has trending genres and tags to keep your content relevant

Stories are ranked to help get your works the most visibility
Cons
There is no app yet (but the mobile site functions as an app)

Limited genres: sci-fi and fantasy are the best-performing, so if these aren't your genres you might be limiting yourself here

The main focus is novels, so short-story writers may need to look elsewhere

It's a new platform, so readership is still growing
Wattpad
Best for: serial or young adult fiction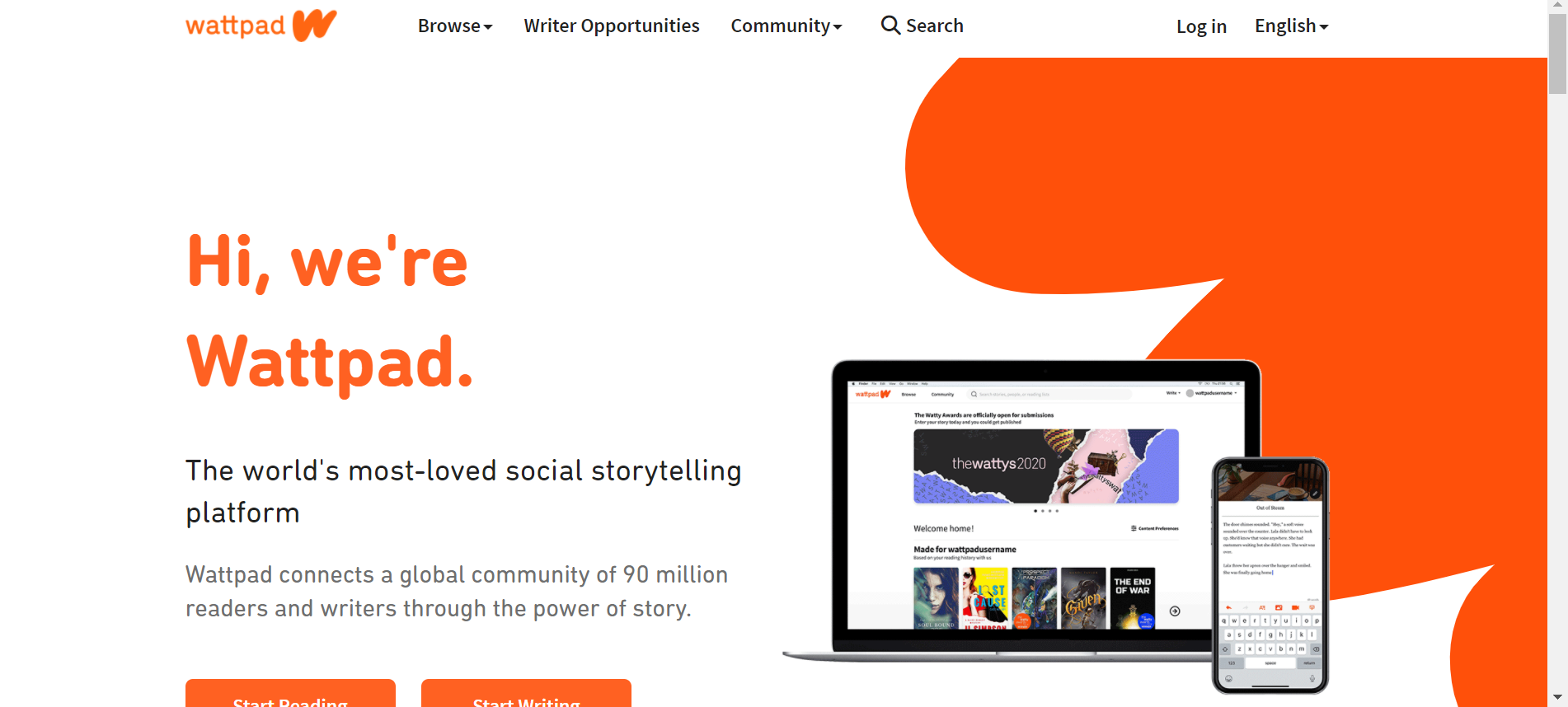 Wattpad is now considered the largest fiction reading platform, centering itself mostly on teen-focused, novella, and novel-length works. The audience size can be a hit or miss--because it's so large, you have the possibility of amassing a huge fan base, or because it's so large, you'll be overlooked and won't get much engagement. Wattpad's audience also skews younger (ages 13 to 20), so this site is great for writers of young adult fiction. Wattpad does offer different ways to monetize your writing with different programs--Wattpad Books, Wattpad Studios, Wattpad Brand Partnerships, and Wattpad Paid Stories; however, Wattpad authors with huge followings and readership are the ones who get paid the most, which leaves out a lot of new talent.
Pros
App and website accessibility

Free to publish

Retain all rights

Large reader and writer audience

Great for finding beta readers and getting feedback

Stories are ranked according to genre out of the top 1,000

Active community and engagement 

Possibility to amass a huge fan base 

Some writers discovered have been discovered by major publishers and offered book deals

A good mixture of writers--self-published, traditionally published, and beginning writers

Great for serialized fiction

Writers can still edit their work after posting
Cons
Writers are not treated equally--not all writers get paid. Only a very select number of writers get paid because of their large following and number of reads

Because it's so easy to publish on the site, subpar content can dominate on the site, which is derivative of other teen young adult novels like Twilight, Hunger Games, 13 Reasons Why, etc.

Stories have ads for readers
Tapas
Best for: fanfiction, comics, and graphic novel creators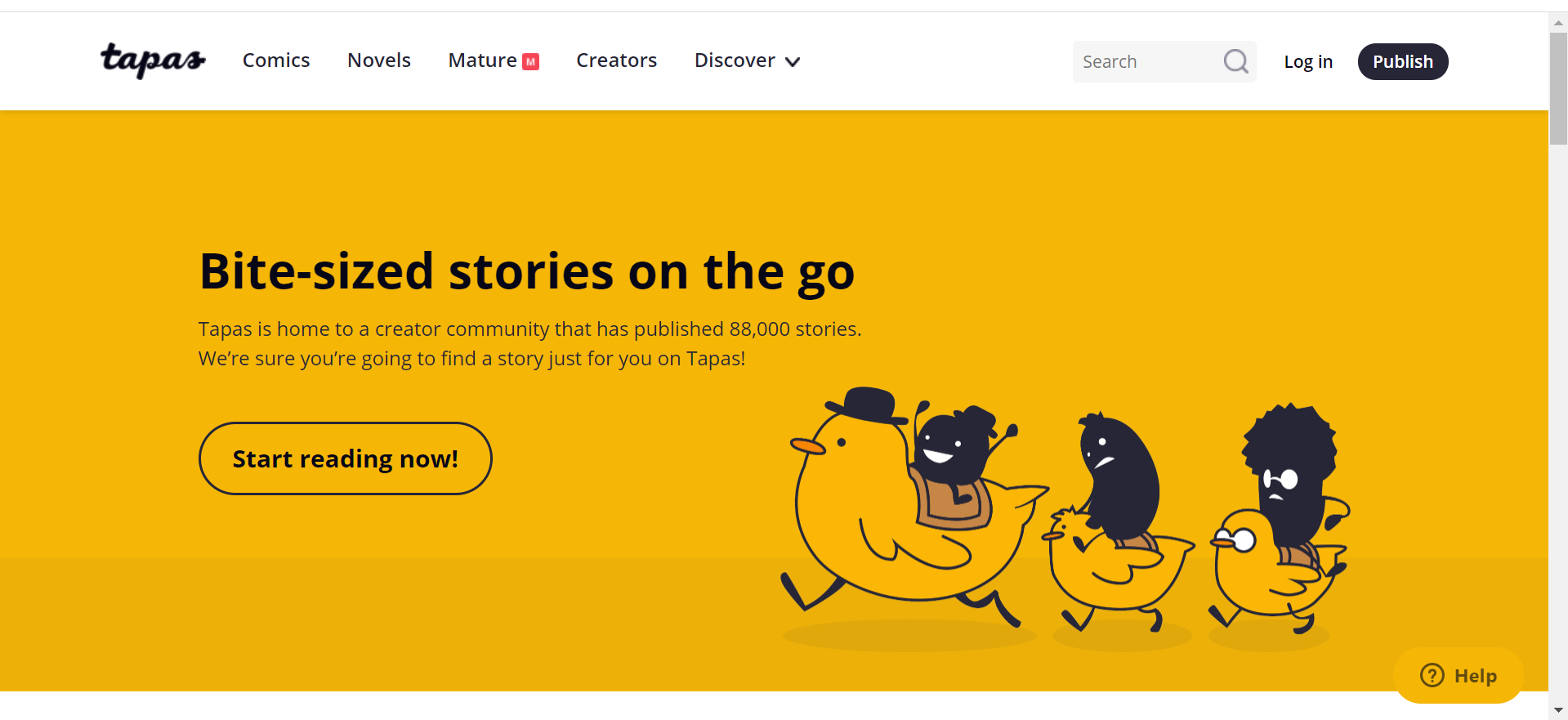 Considered the leading digital publishing platform for webcomics and novels, Tapas prides itself on its "bite-sized stories you can't find anywhere else." This digital publishing site is the go-to for writers of comics, webcomics, or graphic novels. Stories on Tapas are 3-5 minute "chunks" of content for younger readers. Because it is geared toward comics, traditional fiction writers have a hard time building an audience. While there is a pay model for writers, creators must hit benchmarks with follower and subscriber counts, which can be very difficult for the average person to reach. Tapas does offer an online artist community called Tapastry, where creators can support and inspire each other.
Pros
App and web access

Free to publish

Retain all rights

Great for serialized fiction, comics, and graphic novels (novels turned into comics especially do well here)

Can pre-schedule when to post your work

Large genre selection for writers to publish in

Large supportive community for creators 

Editorial support--editor's picks to help get your work showcased

Creators geared toward comics have had huge success landing major book deals or even tv series on this platform
Cons
Cannot go back and edit once you've posted online

Can't edit stories in the app

Only writers with a large audience are compensated

If publishing a novel, it must have a comic book design to get noticed on the site

Smaller niche audience--Art geared mostly toward anime and manga style

Young audience, which can decrease readership based on your content
Webnovel
Best for: new authors, serial fiction, finished manuscripts, long-term revenue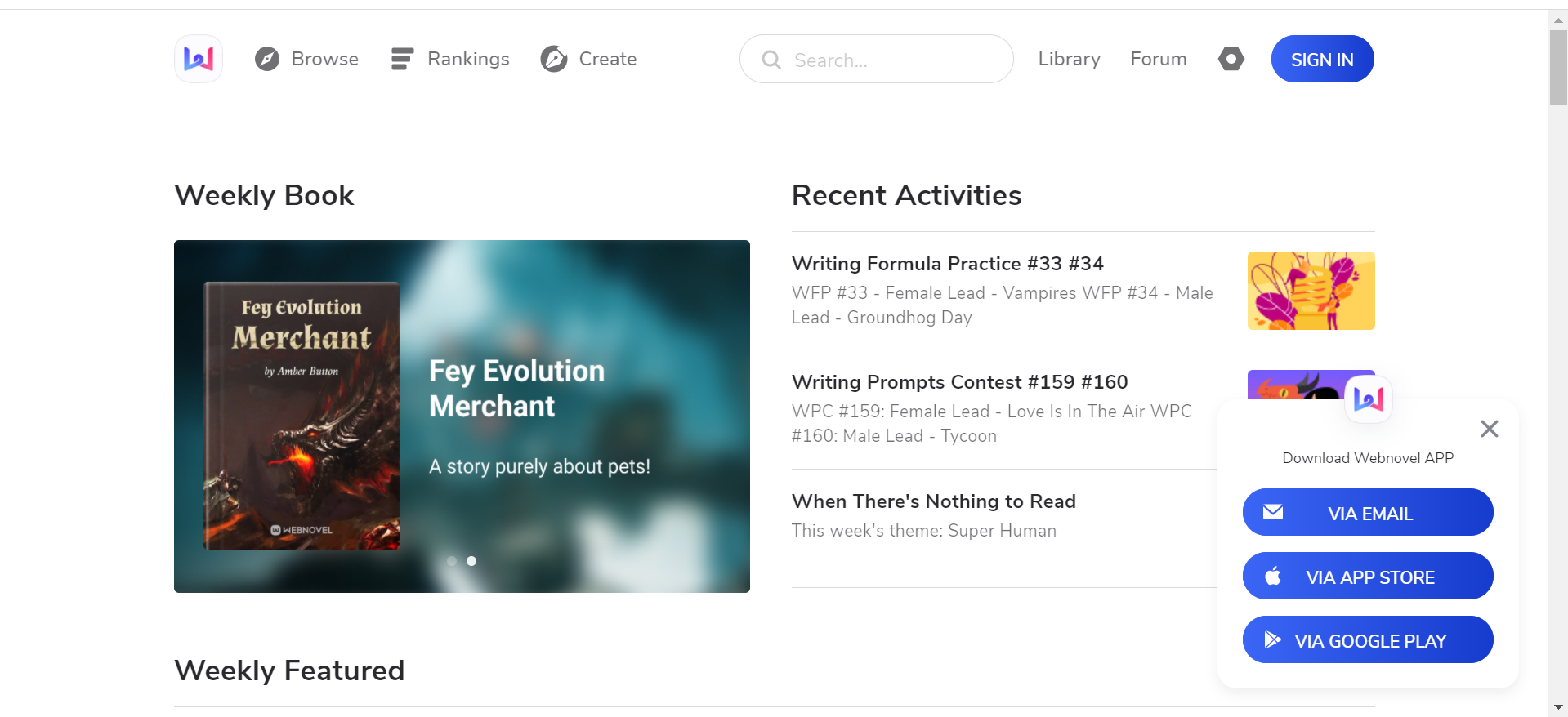 Claiming to be the pioneers of online literature, Webnovel promises to "nurture your dreams" of becoming an author. On Webnovel, authors share the revenue earned from subscriptions on the site, direct sales (from other platforms), and monetization of their copyrights. This site is good for writers who already have a novel draft and are looking for publication, and established writers looking to have a steady revenue stream. That being said, writers can still publish chapter by chapter to workshop their writing with their readers. The Contracted Works Guarantee System helps new writers in their exploratory phase before they've made it big. This allows for writers to earn monthly income based on certain stipulations outlined on their website and is also a stepping-stone for writers who want to earn a full-time income from their royalties. Readers can vote for your writing with Power Stones, which increases your rankings to attract more fans. Much like Wattpad, writers can gain attention from major publishers and online retailers like Amazon. Webnovel also promotes that they can adapt books to other forms of media like movies, television, animation, and stage drama. However, the best perks on this site (like editorial teams and advertising) are mainly for contracted writers. 
Pros
App and website

Publish for free

Retain copyrights (only if you don't sign a contract)

Long-term earnings with multiple ways to create revenue with your work

Can earn fixed monthly payments in the Minimum Guarantee System

Can publish chapter-by-chapter

Contracted writers get assistance from a team of developmental editors 
Cons
Must sign a contract to be successful on this site

Successful and experienced writers get priority over new authors to Webnovel's fixed-rate contracts

Must sign over copyright in fixed-rate contracts

Contracted works must go to Premium status before being considered for Contracted Works Guarantee System

Must publish 1500 words daily for 30 days under the contract system

Only contracted writers can get editorial assistance 
Royalroad
Best for: new and rising talent, serials, WIPs, self-marketing superstars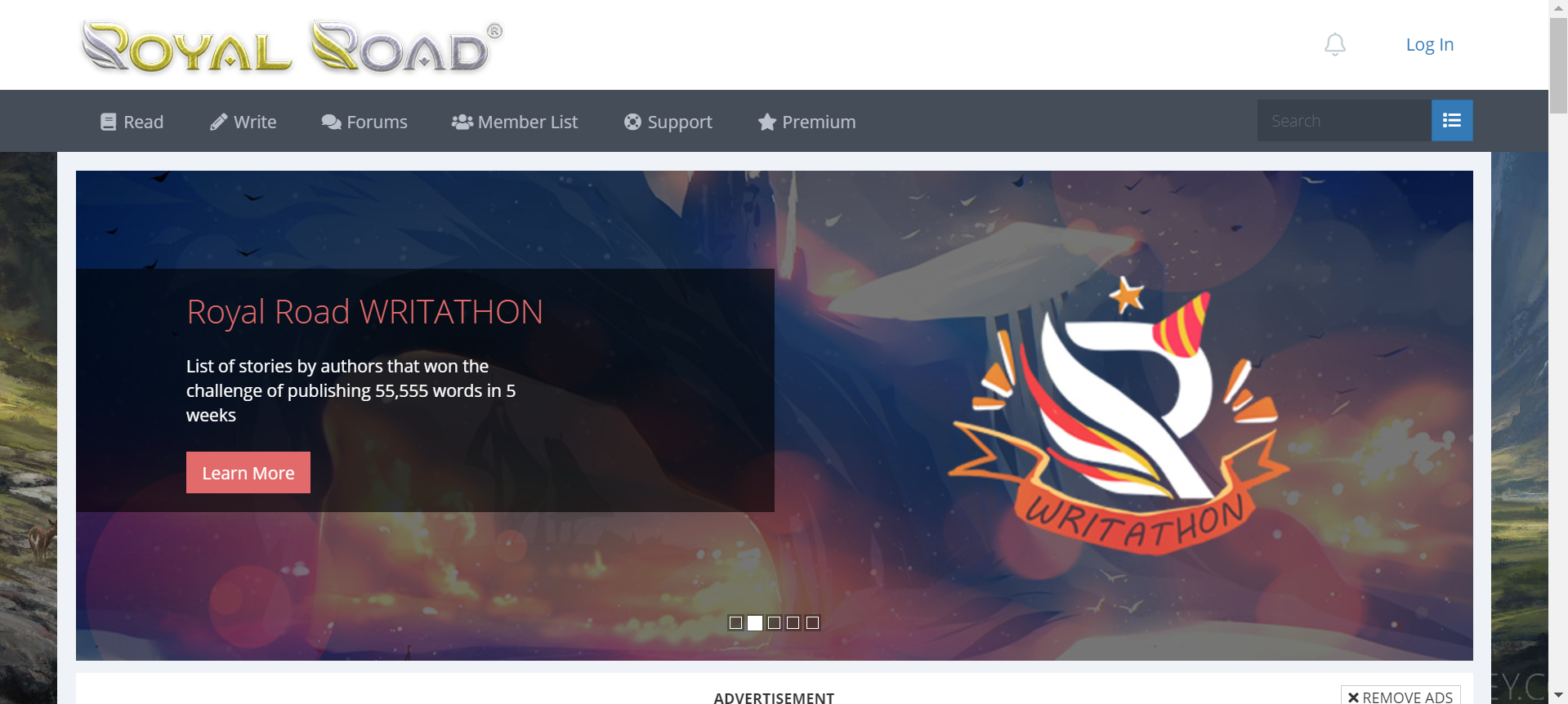 Royalroad touts its online publishing platform for new and rising authors to find a place to publish and receive feedback from readers and other writers. Readers and writers can both use the platform for free, but monthly and yearly subscriptions are offered for both to utilize full website features. Royalroad is great for serialized fiction so writers can publish chapter by chapter, whether your novel is finished or not. Authors get payments through reader donations, so payment isn't a guarantee. For authors serious about marketing, they can create their own ads with built-in ad templates, with tiers for pricing (i.e., 330k impressions for $50). A good feature on this site is authors have to differentiate their work between fanfiction and original fiction, which helps avoid plagiarism. Authors must submit their fiction to be approved, which may take 2 to 3 days, but this degree of vetting means the quality of work on this site is higher than others. The site ranks stories as New Releases, Latest Updates, Best Rated, Trending, Most Popular, etc., to help boost impressions and fan base.
Pros
Can publish for free (but the best features are behind a paywall)

Authors keep all rights to their work

Easy royalty payouts with PayPal 

Subscriptions can be canceled at any time

Authors can include links at end of every chapter for donations through PayPal or a Patreon link

Readers can promote their favorite authors' works to help grow fan base

Writers can create their own ads with templates on the site to promote their work

Uses special tags for mature content to protect young readers

Approval for each piece of work means higher quality work on the site

Authors can moderate, lock, or block comments on their works

The site has an epub exporter to export your works to publishers or direct to readers

Very active engagement and community forum for support
Cons
No app

Writers need a subscription to get full access to author tools, data, and perks

Must wait for approval for work to be posted, up to 48 hours or longer

Contains ad content on free accounts

Authors must pay to advertise their works on the site, which might be out of budget for many writers

The only way to monetize is through Patreon or donations, which leads to inconsistencies in earnings 
Booksie
Best for: multimedia creators, authors ready to publish their finished manuscript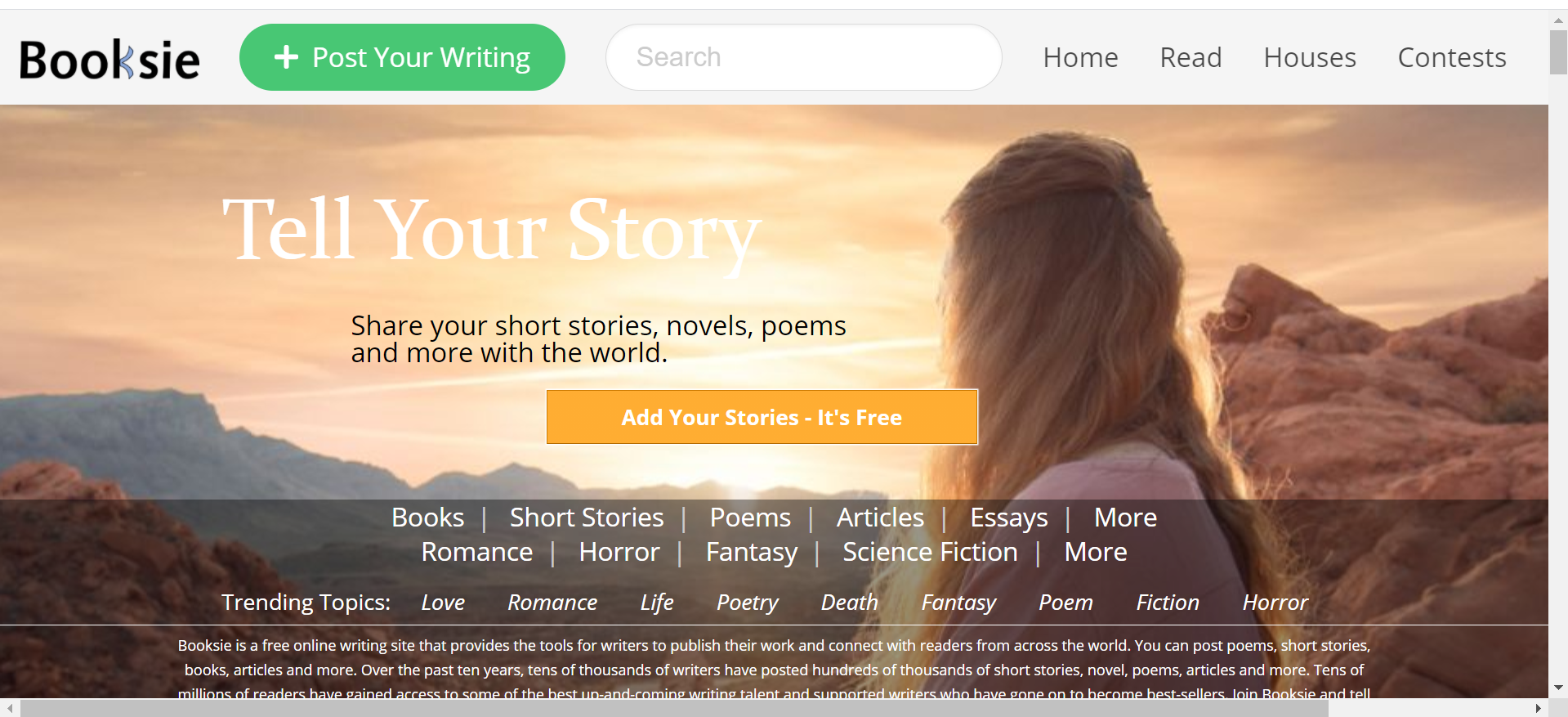 Designed to "inspire writers to unlock their imagination," Booksie is an online social publishing site that allows both writers and readers to use for free. Booksie has the largest genre selection within which to publish, including books, poems, short stories, articles, essays, audiobooks, and even songs and podcasts. Their global audience has a wide variety of ages, starting at thirteen all the way up to adults, so adult fiction writers are welcome. Booksie is free but does offer premium memberships for writers, which allows for boosting of your content, receiving payments from your readers via PayPal, stats and reader data, and a link to connect your works to Amazon, among others. Booksie also boasts a built-in epub generator to allow writers to make your manuscript into a full-length ebook or print book that is ready for sale. Another gem is Booksie employs publishing advisors and hosts a free self-publishing guide to help you along your publishing journey. Users (readers or writers) can create their own publishing "houses" where writers publish their work. The "Shelfit" feature allows writers to promote their work across the site, which means free advertising for writers.
Pros
Free to publish

Authors retain all rights 

Wide variety of genres you can publish in so you aren't restricted

Motivates writers with writing contests

Variety of age demographics, so there is a wide reach

Protects young readers by not allowing adult-themed content

Many writers have been discovered and landed book deals on Booksie

Built-in epub converter to easily generate your work into an epub or a print book

On-site bookstore to sell your books in tandem with Amazon

Ability to designate a beneficiary to your account

Subscriptions are low cost and start at $2.50 a month and can be canceled anytime

Support for writers with advisors and guides

Writers can create a writing group for support for free

Can publish under a pen name

Can edit work already published on the site
Cons
Because of the wide age gaps, mature content is not allowed on the site to protect young readers, which may be a problem if your work is considered adult-themed

Must have a premium subscription for an ad-free experience and access to writer tools

Can only sell your books in the Booksie store if they are already for sale on Amazon

Writers must submit all work to a "house" on the site, where their work will reside

Must pay to create more than one writing group
While there is certainly no shortage of fish in the sea of online publishing, the most difficult task is choosing the right one for you. With research and education, you can find the best platform for you, whether you're through with your manuscript or not. The beauty of digital publishing is you as the writer get to stay in control, and you have the freedom to go ahead and publish, even if you've only written one chapter.